The Virginian-Pilot - July 24, 2006

Dec. 26, 1996: Blackwater Lodge and Training Center Inc. is incorporated in Delaware.

Jan. 30, 1997: The company buys its first properties in Currituck and Camden counties, N.C.

January 1998: The company lands its first paying customer.

Oct. 12, 2000: Suicide bombers attack the guided missile destroyer Cole in Yemen, killing 17 sailors. The incident leads to Blackwater's first big federal contract, a five-year deal to train sailors.

Sept. 11, 2001: Terrorist strikes in New York and Washington kill nearly 3,000 Americans, dramatically expanding the market for security services offered by Blackwater and similar companies.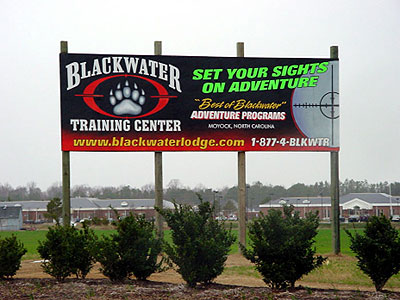 March 20, 2003: The United States invades Iraq, toppling Saddam Hussein's regime and ushering in an unprecedented demand for private military companies on the battlefield.

March 31, 2004: Four Blackwater contractors are killed and publicly mutilated in Fallujah, bringing international attention to the company and prompting calls for revenge.

September 2004: Blackwater's Florida-based aviation affiliate, Presidential Airways, wins a $34.8 million contract to ferry troops and supplies in Afghanistan.

Nov. 27, 2004: A Presidential Airways plane hits a mountain in Afghanistan, killing three Blackwater contractors and three American soldiers.

April 21, 2005: Seven Blackwater contractors are killed in two incidents in Iraq – the company's worst single day of casualties.

Aug. 29, 2005: Hurricane Katrina strikes the Gulf Coast, creating a new market for Blackwater's security services.

March 2006: Blackwater says it will move its aviation affiliate from Florida to its North Carolina compound.

May 2006: The company reveals plans for new training facilities in California and the Philippines.