| | |
| --- | --- |
| New products: Seeking a larger slice of the industry pie | |

The Virginian-Pilot - July 28, 2006

The Blackwater brand is turning up on a wide assortment of products as the company builds its business.

The Grizzly

Blackwater describes its invention as a "fighting taxicab" and hopes this 10-man personnel carrier will someday replace the Humvees used by troops.

The Grizzly is armor-plated and diamond-shaped to better deflect blasts from roadside bombs. Bullet proof windows feature gun ports. The roof supports a machine-gun turret. Tires are foam-filled or run-flat.

Independent testing is in the works. Sticker price for a basic model likely will hit $250,000.

Blimps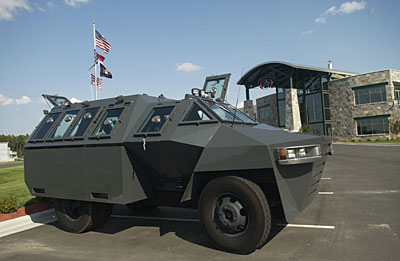 Blackwater is resurrecting and refining the old "lighter than air" vehicles. A 120-foot-long remote-controlled model is under construction, intended for high-altitude surveillance of foreign war zones or domestic borders.

Packed with state-of-the-art detection equipment, the unmanned airships can stay aloft for four days. Radars aren't likely to pick up their presence, and neither is the human eye. At 5,000 feet, the blimp looks the size of a seagull; at 10,000 feet, it's a pinpoint.

Plans call for test-flying a prototype by December and producing 20 blimps next year.

Designer guns

Two gunmakers, Bushmaster and SigSauer, have introduced signature weapons bearing the Blackwater name.

Miscellaneous products

Blackwater's bear paw is getting downright trendy. Ball caps, T-shirts, mugs and dozens of other items stamped with the company's logo are sold in the compound's gift shop and online. Sales hit $1 million last year.